Sonora Bank Opens New Technology-Driven Satellite Office in San Antonio
New Loan Production Office Features Adjacent Innovative Personal & Commercial Banking Technology

Sonora, TX (July 26, 2022) – Sonora Bank is excited to announce the opening of a new a satellite loan production office in Rogers Ranch, one of North Central San Antonio's most popular communities. Adjacent to the loan production office is a secure, 24-hour access interactive teller machine and cash exchange machine—the first of its kind in Texas—making the convenient, technology-driven location ideal for personal, commercial and loan customers.
"The widespread interest that we've seen among current and prospective customers within the San Antonio market for our unique brand of banking is growing. This new satellite location in Rogers Ranch is the first of its kind for us," said Bob Malone, Chairman, President and Chief Executive Officer of Sonora Bank. "In addition to being a loan production office, the adjacent office space is equipped with a secure interactive teller machine (ITM), where customers can interact via camera with a personal banker located in Boerne, and a cash exchange machine for our commercial customers. We are the first bank in Texas to be able to offer this solution to customers. These innovative technologies allow us to give our customers additional convenient avenues in which to conduct banking."
ITMs take your traditional deposit‐taking ATMs a step further into the future with integration that gives the customer more options such as paying a loan or transferring between accounts. While the site offers secure, 24-hour access, video and audio capabilities allow customers to talk and interact with a customer support representative if help is needed during business hours. The self-service cash exchange machine is a high-speed device that allows customers the convenience of not having to visit a traditional brick and mortar branch to conduct cash exchange-related transactions.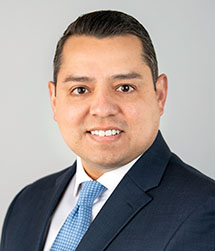 The Rogers Ranch LPO will be led by Marc Villarreal, Vice President—Loan Production Officer. Marc brings 15 years of banking and business experience to his new role at Rogers Ranch. He joined Sonora Bank in 2016 as a credit analyst and since that time has risen up the ranks to becoming Assistant Vice President/Assistant Branch Manager at our Boerne East branch where his leadership has produced strong outcomes in deposit and loan growth as well as customer retention.
Prior to Sonora Bank, Marc held senior credit analyst and commercial lending positions with Wells Fargo and The Bank of San Antonio. Marc received his Bachelor of Business Administration degree from The University of Texas at San Antonio and is a recent graduate of the Greater Boerne Chamber of Commerce Leadership program.
"During his time at Sonora Bank, Marc has proven himself as a strong and driven lender who consistently demonstrates a balanced approach to managing risk and loan growth," said Malone. "I'm excited to see his growth and achievements continue to develop with his continued leadership of our Rogers Ranch location and am confident our ninth Sonora Bank location will allow us to be stronger and better positioned to help our clients' grow and prosper."
Sonora Bank Rogers Ranch is located at 2711 N Loop 1604 W #103, San Antonio, Texas 78258. For more information, email
info@sonorabank.com
.
The First National Bank of Sonora opened in 1900, only 10 years after Sonora, Texas became a town. By 1995, Sonora Bank expanded to San Angelo as a $50 million bank. Today, the Bank has more than $625 million in assets and nine locations throughout West Texas and the Hill Country, including Sonora, San Angelo, Boerne, Bulverde, Wimberley, New Braunfels and San Antonio. Sonora Bank is a Texas tradition, helping generations of Texas families with their banking needs. The Sonora Bank team provides sound financial services in a hometown atmosphere. To learn more about the Sonora Bank difference, please visit
www.sonorabank.com.