Your security is our top priority
Across the industry, we are seeing an uptick of fraudulent phone calls and text messages to financial institution customers in an attempt to gain access to their bank account and personal information. The messages may appear to come from your financial institution, but the number is being spoofed. Callers try to convince customers to provide their personal information and/or online banking logins. 
With Sonora Bank, your safety and security are paramount. We take the trust you've placed in us very seriously, and we are committed to safeguarding your personal information. Sonora Bank will never call, text or email you requesting bank account information, account numbers, usernames, passwords or other confidential information.
At Sonora Bank, we are proud to offer you:
Debit cards with EMV chip technology
Secure mobile and online banking login
Ability to immediately freeze your card via online banking or telephone banking if your card is lost or stolen.
Steps you can take to protect yourself

Protect your personal information. Never give out your birthdate, Social Security Number, usernames or passwords.
Do not respond to text messages from numbers you don't recognize.
Do not open or click links in suspicious emails or text messages.
Monitor your accounts regularly.
Avoid public WiFi for financial transactions.
Change your passwords on a regular basis and try to avoid reusing passwords. 
Research mobile applications before downloading them.
Report lost or stolen cards immediately.
Shred personal documents with confidential information.
Ensure firewalls and antivirus software is installed on your computer.
What to do if you suspect fraud

Contact us immediately if you suspect an unauthorized debit or charge.
Contact us immediately if your card or PIN was lost or stolen.
Change your password, PIN and other login information.
If you gave a scammer your Social Security Number, visit https://identitytheft.gov/ to see what steps you should take and how to monitor your credit.
Sonora Bank conducts regular testing to identify and quickly resolve any perceived threats. In addition, we require and provide frequent and ongoing information security training for our employees to help ensure team members are following best practices, policies and procedures to keep you and your finances safe.
If at any time you are unsure about a message you receive, please contact your local branch for assistance.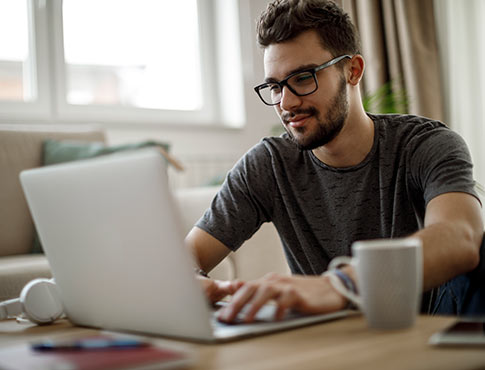 ONLINE BANKING
Convenient, secure and innovative banking
With access to Sonora Bank's online banking through desktop and mobile devices, you are in full control of your accounts.