How far back can I look at my statement?
Your history is available up to 18 months, depending on your account open date.  
I am locked out of my online banking.
There is a "Forgot Password?" button on the home page you can use to reset your password. You can also call the bank and we can reset your access or give you a temporary passcode to allow you access.
I cannot see copies of my check.
Not all copies are available for viewing due to your account type or the processing of checks, such as temporary checks.
I cannot answer the verification question.
This is a question that was chosen at the time of the application request and the question may have been incorrectly answered. (i.e., date of birth as mm/dd and answered as 09/75).
I want a payment to be stopped on Bill Pay.
You will be able to do that if you have the "change" or "cancel" option available to you in Bill Pay.
How do I make my loan payment to Sonora Bank with online banking?
The loan department will be able to set your loan up for auto debit, or use the transfer option.
My account was charged for a payment, but the company did not receive the payment.
You will need to call the bank to allow us to research that payment.
How can I see pending items?
This is available in your account summary within online banking, with the exception of pending Remote Deposit activity. 
What will the interest rate on my loan be?
The interest rate is dependent on several factors, including but not limited to credit history, debt-to-income ratio, type of collateral and bank history.
Can I schedule my payments on my paydays?
Yes.
Can I auto debit my payments out of my other bank account?
Yes.
Do you do boat loans?
Yes.
Do you offer bill consolidation loans?
Yes.
Can I assume my cousin's car loan?
No, you must qualify for your own loan with the current terms.
If I use my CD as collateral, what is the rate?
We charge 2% above the CD rate.
How do I get pre-qualified?
With a completed application, we can pre-qualify you. We will have to verify income and assets for approval.
Do I need to order an appraisal for a mortgage?
No, we will order the appraisal as well as the survey, if needed.
Are you going to sell my loan?
While it is a possibility, Sonora Bank offers in-house mortgage loan originations that are not sold. Please give us a call to discuss your mortgage loan options. 
What do you have for first time homebuyers?
There are programs through FNMA and FREDDIE MAC for first time homebuyers who qualify.
Do you offer lines of credit for operating, inventory, accounts receivable, etc.?
Yes, we offer many different loan products to cover almost any type of business financing.
Do you offer Letters of Credit?
Yes.
Will I need a cash injection or down payment in order to get a loan?
In most cases you will, but it may vary depending on several different criteria.
What will my loan officer request from me when applying for a commercial loan?
In most cases you should be prepared to provide a personal financial statement and copies of two to three years tax returns or other proof of income. Other requested documentation will depend upon the type of business.
Is it possible to refinance a business loan from another bank or financial institution?
Yes, in many cases.
How much does this service cost?
There is currently no charge associated with service. However, there may be charges associated with text messaging and data usage on your phone. Check with your wireless phone carrier for more information.
Is it secure?
Yes, the mobile banking service utilizes best practices from online banking, such as HTTPS, SSL encryption, PIN, or password access and application time-out when your phone is not in use. Only the phones that you personally enroll in the service can access your accounts. In addition, no account data is ever stored on your phone. And in the event your phone is lost or stolen, the service can be immediately disabled by either going online to the Mobile Banking enrollment website or calling us.
Which wireless carriers are supported?
We support all the popular US wireless phone carriers, including AT&T, T-Mobile, and Verizon. If your carrier is not listed when you enroll, select 'Other' and try the Mobile Web option, or check back later, as new carriers will be added over time.
I'm not enrolled for online banking. Can I still use this?
You must first enable your bank account(s) for online banking before using mobile.
What is Sonora Bank's Mobile App Banking?
Mobile banking gives you access to your accounts from your mobile web browser or a downloadable mobile banking application, depending on your preference and your phone capabilities. Both options allow you to: view account balances, search recent account activity, transfer funds, and find nearest ATM or branch locations.
How do I install the downloadable application?
You can download the mobile app either through Google Play store or Apple App store. 
Is Mobile Banking supported on my phone?
Mobile Banking is supported on most Apple and Android phones with a mobile web browser that supports cookies.
What is Sonora Bank Text Banking?
Text banking gives you access to your accounts via text (SMS) messages on your phone. It's a fast, easy way to look up account balances or recent account history by sending a text command to a shortcode.
What is Sonora Bank shortcode?
All text messages should be sent to 96865.
Can I use both Text Banking and Mobile Banking on my phone?
Yes, you can use both options from the same phone. To do so you will need to activate each option on your phone prior to use.
Is Text Banking supported on my phone?
Text Banking will work on any text message (SMS) capable phone from one of our supported carriers.
Will I receive unsolicited text messages?
No. You will only receive messages when you specifically request them with one of the Text Banking commands.
I enrolled my phone number but did not receive a text message. What should I do?
Typically you should receive a text message within a few minutes after enrolling, however sometimes mobile carriers experience delays which slow down text message delivery. While waiting, make sure you phone has wireless signal. In addition, be sure you entered the correct phone number on the enrollment site. If you still do not receive it, contact your wireless carrier to be sure text messaging is enabled on your phone.
I received an activation code but never used it. What do I do now?
Activation codes expire after a specific period of time (usually 24 hours). If you need a new one, return to the enrollment site  and request a new activation code.
What happens if I get a new phone or change phone numbers?
If you get a new phone or change phone numbers, be sure to return to Mobile Banking website via your PC and update your phone profile in the Mobile Banking Center. We recommend removing your old phone and re-enrolling your new phone.
Can I use Mobile Banking or Text Banking on more than one phone?
Yes. Visit the Mobile Banking Center and simply enroll (and then activate) another phone number.
I activated Mobile Banking on my phone's browser. Why am I being asked to activate again?
At the time of activation on your phone's browser, a cookie is generated which always tells the Mobile Banking system that you activated (thus allowing you to proceed to the sign on screen). However, some mobile phones will periodically erase all cookies, requiring you to reactivate.
What if my device is lost or stolen?
If you are concerned about misuse of your phone, contact your mobile service provider immediately to stop all wireless service. Additionally, sign on to online banking and disable or remove your phone.
Do I need to re-enroll into mobile banking after I purchase a new phone?
Yes. You must re-enroll into mobile banking after you purchase a new phone. Sign in to Online Banking on your computer and under User Services choose the Mobile Enrollment option. Enroll your mobile phone and follow the activation instructions.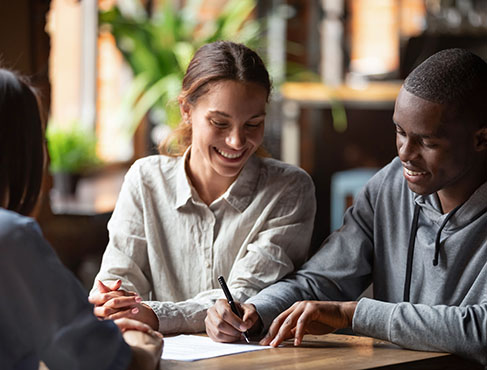 MONEY MARKET ACCOUNTS 
Put your savings to work
If you want to earn higher interest than a traditional savings account can offer yet want more flexibility to access your funds than long-term investment accounts can provide, a Money Market Account may be the ideal option for you.