Let Us Welcome You Home
If you're thinking of buying a home — or if you'd like to refinance your existing mortgage — come to the mortgage professionals at Sonora Bank. Let us design a loan to meet your needs. From FHA, VA and Conventional to Jumbo, Investment or Second Home loans, we have a variety of loan programs with fixed or adjustable rates. 
We offer:
Experience. At Sonora Bank, we know the mortgage business. We've been making home mortgage loans for more than 50 years.

Innovation. We're an innovative lender in the mortgage field, developing new products to meet our customers' loan needs in a changing financial world. We offer a wide variety of mortgage options.

Commitment. When you buy a home, you're making a long-term commitment, and you can expect the same level of commitment from us. Our customers' satisfaction is our first priority.
Timeliness. With Sonora Bank, you are working with seasoned lending professionals who understand the loan process. You can expect timely and efficient closings. 

Mortgage Calculator
Estimate your monthly payments and estimated amortization schedule. Quickly see how much interest you could pay and your estimated principal balances. Enter prepayment amounts to calculate their impact on your mortgage.
---
Steps to Home Ownership
step one: share your goals
Renovating? Purchasing a new home? Interested in building your dream home? The mortgage professionals at Sonora Bank are here to walk you through the loan process and answer any questions you may have to make sure you understand the entire process and the options that will work best to accomplish your goals. 
step two: get pre-qualified
Understanding your budget allows you to make informed choices in terms of the type of home and neighborhood to best fit your budget, while helping to streamline the purchasing process. Get pre-qualified today using our easy-to-use, secure online platform. 
step three: understanding your options
Understanding your goals and getting a solid picture of your financial status and lending limits will help your Sonora Bank lender provide the right type of loan solution that best fits your future. We offer a wide range of loan programs, including FHA, VA, Conventional, Jumbo, Investment and Second Home with low down payment options.*
*Loans are subject to credit approval. Terms and conditions may apply.
step four: complete your application
Once you have your dream home in sight and are ready to move forward with your loan application, your loan officer will be ready to help you cross the finish line.
Be prepared to provide financial information such as paystubs, W-2s and loan statements. Your loan officer will walk you through all of the remaining items needed to complete your application. 
Congratulations! When all the paperwork is complete and your loan is approved, you will be ready for closing day! 
Visit your local Sonora Bank branch with any questions, or
contact us
today. We will be glad to help!
Loans are subject to credit approval. Terms and conditions may apply. Prospective depositors and/or borrowers must be of legal age to apply for a loan or deposit.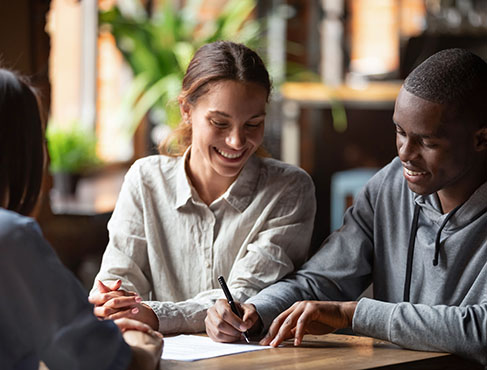 personal checking accounts
Banking your way
Whether you prefer to walk into a branch, be greeting by your name and received personalized attention, or make deposits, transfer funs and check your balance from the comfort of your couch, Sonora Bank has the approach to banking that works for you.