Jen Jones Named Senior Vice President & Sonora Branch Manager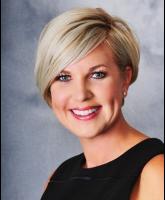 Sonora, TEXAS
(Jan. 23, 2019) – Sonora Bank announced today that Jen Jones has been named to the position of Senior Vice President & Sonora Branch Manager effective Feb. 1, 2019. Jen will assume this position following the announcement by Kay Stewart of her retirement.
"Jen is very active in the Sonora community and the surrounding areas, giving unselfishly of her time and energy," said Bob Malone, Chairman, President and Chief Executive Officer of Sonora Bank. "This strong local knowledge combined with her experience across numerous positions in our Bank and a strong vision for the future make her uniquely qualified to serve in this role at Sonora Bank."
Jen joined Sonora Bank in 2011 as a Customer Service Representative and was named BSA Officer in 2012. In 2014, Jen left Sonora Bank to successfully try her hand at Real Estate Sales and then rejoined the Bank in 2016 as Senior Vice President of Administration and a member of the Executive Leadership Team.
Jen is a 2001 graduate of Texas A&M University with a degree in Industrial Distribution. Following graduation, she worked for a year and a half in the Houston area as a design engineer. In 2002, she and her husband moved to Sonora to make their home.
About Sonora Bank
The First National Bank of Sonora opened in 1900, only 10 years after Sonora, Texas became a town. By 1995, Sonora Bank expanded to San Angelo as a $50 million bank. Today, the Bank has more than $450 million in assets and seven locations throughout West Texas and the Hill Country, including Sonora, San Angelo, Boerne, Bulverde and Wimberley. Sonora Bank is a Texas tradition, helping generations of Texas families with their banking needs. The Sonora Bank team provides sound financial services in a hometown atmosphere. 
---