Sonora Bank Names Evan O'Brien Vice President, Treasurer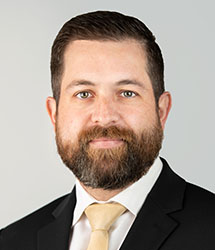 Sonora, TX (March 30, 2022)
– Sonora Bank is pleased to announce Evan O'Brien has been named Vice President, Treasurer. In this role, O'Brien will support President and Chief Executive Officer Bob Malone in the planning, monitoring and management of Sonora Bank's strategic capital structure, liquidity and cash management functions.
"I'm pleased to have Evan step into this important, newly created leadership role for our bank," said Bob Malone, Chairman, President and Chief Executive Officer of Sonora Bank. "Evan is a strong leader whose financial acumen, strategic thinking, drive to continuously improve systems and processes and knowledge of our unique brand of banking qualify him well to lead our treasury functions."
O'Brien joined Sonora Bank in 2020 as a financial reporting analyst, bringing with him close to 10 years of finance experience, most recently serving as a financial analyst for USAA. Prior to that he was a financial advisor for USAA.
O'Brien has held additional financial planning and analysis roles at Advisors Asset Management and AXA Advisors.
O'Brien earned a Master of Business Administration in Finance from Our Lady of the Lake University and Bachelor of Business Administration degrees in both Accounting and Finance from Texas State University.
The First National Bank of Sonora opened in 1900, only 10 years after Sonora, Texas became a town. By 1995, Sonora Bank expanded to San Angelo as a $50 million bank. Today, the Bank has more than $625 million in assets and eight locations throughout West Texas and the Hill Country, including Sonora, San Angelo, Boerne, Bulverde and Wimberley. Sonora Bank is a Texas tradition, helping generations of Texas families with their banking needs. The Sonora Bank team provides sound financial services in a hometown atmosphere.