Sonora Bank Celebrates Installation of Electric Vehicle Charging Station at Wimberley Branch
Infrastructure Important Part of Sonora Bank's Commitment to Supporting Environmental Initiatives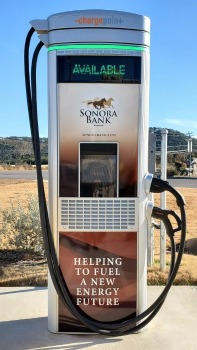 Sonora, TEXAS
(Dec. 15, 2020) – Sonora Bank announced today installation has been completed on the bank's first electric vehicle charging station, located at its Wimberley Branch. Drivers can use the charging station to power up their electric vehicles, free of charge, and also enjoy free WiFi while they wait.
"Since 1900, Sonora Bank has supported local values while embracing innovation," said Bob Malone, Chairman, President and Chief Executive Officer of Sonora Bank. "The new charging station in Wimberley is not only an investment to help improve the quality of life in the Wimberley community, but also supports our values and desire to reduce our environmental footprint in the communities we serve."
Sonora Bank partnered with ChargePoint, the world's largest electric vehicle charging network with the most complete portfolio of charging stations available today, to install the ChargePoint Express 250. The unit, designed for longer distance trips, is built to fast charge current and next-generation electric cars, buses and trucks.
"Being good stewards of our land and environment is a belief we hold to our core at Sonora Bank," said Josh Smith, Vice President and Wimberley Branch Manager. "With the growth in popularity of electric vehicles, due to the reduced emissions and lower maintenance costs, we are pleased to offer those who drive these cars the ability to stop in a safe location while traveling and charge their vehicles for free."
About Sonora Bank
The First National Bank of Sonora opened in 1900, only 10 years after Sonora, Texas became a town. By 1995, Sonora Bank expanded to San Angelo as a $50 million bank. Today, the Bank has more than $450 million in assets and seven locations throughout West Texas and the Hill Country, including Sonora, San Angelo, Boerne, Bulverde and Wimberley. Sonora Bank is a Texas tradition, helping generations of Texas families with their banking needs. The Sonora Bank team provides sound financial services in a hometown atmosphere. 
---