New Wimberley Branch Now Open
Sonora, TEXAS (Oct. 9, 2019) – Sonora Bank announced today that it has expanded its presence in the Hill Country market with the opening of a new branch in Wimberley (100 Stillwater, Wimberley, TX 78676). This full-service branch will provide personal, retail and business banking services, along with residential and commercial loans, CDs, safety deposit boxes and more.
"We are pleased to bring our brand of banking to the Wimberley community," said Bob Malone, Chairman, President and Chief Executive Officer of Sonora Bank. "Sonora Bank's first branch opened in Sonora, Texas in 1900 with a focus on serving the ranching
. While our footprint across West Texas and the Hill Country have grown, we are proud to have stayed true to our roots by offering personalized customer service in a hometown atmosphere."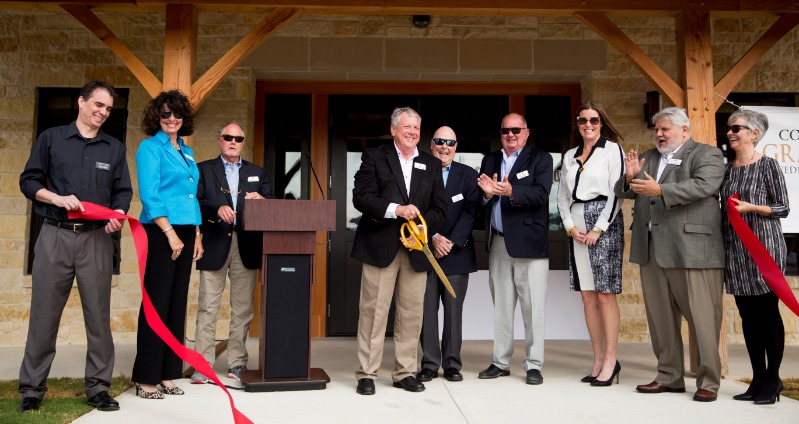 Chairman of the Sonora Bank Board of Directors Bob Malone, alongside the full Board of Directors and representatives from the Wimberley Chamber of Commerce, cuts the ribbon on Sonora Bank's 7th Branch Location in Wimberley
The Wimberley branch is the seventh Sonora Bank location. The 4,500 square foot, barn-styled bank features three drive thru lanes, a gazebo and a windmill on the property.
Wimberley's team includes Josh Smith, Vice President and Branch Manager; Dawn Riley, Assistant Branch Manager; Pam Ferguson, Personal Banker; and Mariah Everitt, Personal Banker. Lobby hours are from 9 a.m.-5 p.m., Monday through Friday. Convenient drive thru hours are from 8 a.m.- 5:30 p.m., Monday through Friday.
About Sonora Bank
The First National Bank of Sonora opened in 1900, only 10 years after Sonora, Texas became a town. By 1995, Sonora Bank expanded to San Angelo as a $50 million bank. Today, the Bank has $440 million in assets and seven locations throughout West Texas and the Hill Country, including Sonora, San Angelo, Boerne, Bulverde and Wimberley. Sonora Bank is a Texas tradition in banking with many of the descendants of the original Board of Directors serving on the current Board. The Sonora Bank team is dedicated to providing sound financial services in a hometown atmosphere. 
---