David Soldano Named President of Sonora Insurance Group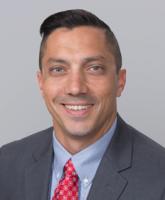 Sonora, TX (Aug. 2, 2021) – Sonora Bank is pleased to announce that David Soldano has been named President of Sonora Insurance Group. In this role David will provide strategic leadership for this independent, full-service insurance agency.
"Since partnering with Sonora Insurance Group in 2019, we have seen tremendous synergy between our two organizations," said Bob Malone Chairman, President and Chief Executive Officer of Sonora Bank. "With David's strong knowledge of business and his deep experience in sales and marketing, I am confident he will provide the right catalyst for Sonora Insurance Group's continued growth and success."
Soldano brings 20 years of banking and business experience to this new role. He joined Sonora Bank in 2005 as a teller and has steadily risen through the ranks to most recently serving as Senior Vice President of Central Loan Processing where he revitalized the bank's loan processing operations and increased efficiencies to better serve customers. Soldano holds a degree in business administration from the University of Texas—Pan America and is a graduate of the Texas bankers Association Management Development Program. Soldano was named on the 20 Under 40 Brightest Leaders of Tomorrow list by the City of San Angelo.
"I am grateful for this tremendous opportunity to further drive the growth strategy for Sonora Insurance Group," said Soldano. "I look forward to continuing to work alongside our valued employees and our trusted carriers to meet the needs of our customers with customized, quality customer service and insurance solutions."

About Sonora Bank

The First National Bank of Sonora opened in 1900, only 10 years after Sonora, Texas became a town. By 1995, Sonora Bank expanded to San Angelo as a $50 million bank. Today, the Bank has more than $450 million in assets and seven locations throughout West Texas and the Hill Country, including Sonora, San Angelo, Boerne, Bulverde and Wimberley. Sonora Bank is a Texas tradition, helping generations of Texas families with their banking needs. The Sonora Bank team provides sound financial services in a hometown atmosphere. 
About Sonora Insurance Group

Sonora Insurance Group, LLC is an independent insurance agency located in Boerne, Texas. Founded in 2008 by a group of insurance industry veterans, Sonora Insurance Group has grown from its niche focus on equine and agriculture to become a large, full-service agency while staying true to its roots of providing personalized and customized insurance solutions. For more information, please visit www.sonora-insurance.com.