Sonora Bank Announces Senior Leadership Changes
Sonora, TX (June 1, 2022) – Sonora Bank today announced senior leadership changes to position the bank for long-term growth and operational efficiencies, while better meeting the needs of its growing customer base.
In the San Angelo Market, Mark Odle will serve as the SVP, Regional Branch Manager and continue to manage Sherwood Way branch operations. With a deep background and understanding of mortgage lending, Carolyn Keeling will now lead a new team based in the Southland Branch as the SVP, Mortgage Lending, solely focused on secondary market mortgage lending. In addition, Jay Orr has been named VP, Assistant Regional Branch Manager and will oversee branch operations at the Southland branch.
In the Boerne Market, Jason Kirkpatrick will serve as the SVP, Regional Branch Manager. Jessica Godin has been named SVP, Assistant Regional Branch Manager. They will work together to drive market share and loan volume, while ensuring there is continual loan officer presence at both branches.
Mark, Carolyn, Jason and Jessica will continue reporting to Sonora Bank's Executive Vice President, Chief Operating Officer Stephen Franco, and Jay will continue reporting to Mark Odle.
"Sonora Bank has a tremendous amount of talent and strength. Matching our organization structure to our growth strategy will allow us to provide a deeper level of service and support to Sonora Bank customers," said Bob Malone, Chairman, President and Chief Executive Officer of Sonora Bank. "I am excited about these positive changes that are going to position us well for growth and long-term success, while continuing to deliver value to our customers, communities and shareholders."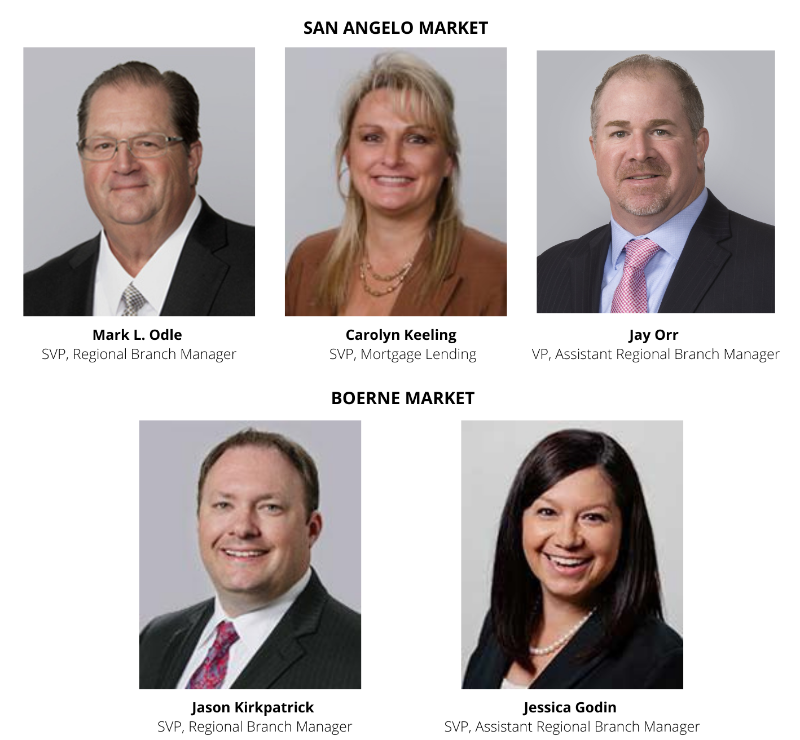 The First National Bank of Sonora opened in 1900, only 10 years after Sonora, Texas became a town. By 1995, Sonora Bank expanded to San Angelo as a $50 million bank. Today, the Bank has more than $600 million in assets and seven locations throughout West Texas and the Hill Country, including Sonora, San Angelo, Boerne, Bulverde and Wimberley. Sonora Bank is a Texas tradition, helping generations of Texas families with their banking needs. The Sonora Bank team provides sound financial services in a hometown atmosphere.